Looking for best fares for flights to the destination of your choice? Find them here. To book, get in touch with an airfare expert through the form below.
 
We don't have any products online right now but one of our consultants may be able to help you. Enquire now to get access to great deals all over the world.
Choose from our range of Mumbai holiday packages below that each include your flights, accommodation, and often special bonuses like tours and free upgrades. If you can't find the package you're looking for, contact one of our friendly consultants on 1800 200 6668 and don't forget to ask about customising a package to suit your needs.
The commercial heart of India, modern Mumbai beats with an infectious energy reminiscent of a driving Bollywood dance tune. Mumbai's importance began during the eighteenth century when the city established itself as a major trading port. This boom carried on throughout the nineteenth century when, in particular, the opening of the Suez Canal made Bombay, as it was known then, one of the largest ports in the region.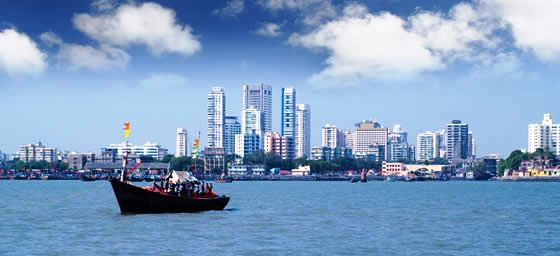 Mumbai Skyline & River
Today there are many attractions scattered throughout the city of interest to visitors. The iconic Gateway of India and the famous Taj Mahal Hotel are arguably the most recognisable sights in the city. From the British colonial period, also consider exploring the Chhatrapati Shivaji Terminus, Mumbai University and the High Court. Strolling along the promenade facing the Harbour is also very satisfying.
A great excursion idea is taking the boat across to Elephanta Island for the ancient rock carvings. Also while in the city, watching a Bollywood movie in an Indian cinema is a must. Bollywood films in general are not known for their brevity. Cricket is serious business in Mumbai, so if local teams are playing consider savouring the experience live at the Azad Maidan.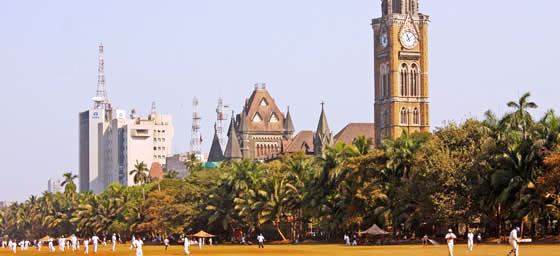 A Cricket Game Near Rajabai Tower"
Mumbai Airport (BOM)
Flights from Mumbai will disembark at Chhatrapati Shivaji International Airport.
Chhatrapati Shivaji International Airport (BOM) is Mumbai's main airport and the second busiest airport in South Asia. Spanning 1450 acres and five operating terminals, Chhatrapati Shivaji International is India's biggest international and domestic airport.
Airport Accommodation: There are a number of hotels located in close proximity to Chhatrapati Shivaji International Airport. Book your Mumbai Airport accommodation.
Looking for more than just a flight? A Mumbai holiday package includes flights, accommodation, and often other extras like tours or car hire.