We don't have any products online right now but one of our consultants may be able to help you. Enquire now to get access to great deals all over the world.
Choose from our range of East Timor holiday packages below that each include your flights, accommodation, and often special bonuses like tours and free upgrades. If you can't find the package you're looking for, contact one of our friendly consultants on 1800 200 6668 and don't forget to ask about customising a package to suit your needs.
For all of East Timor's turbulent past – between Portuguese and Indonesian occupation – and its poverty, the people remain genuinely welcoming. Set in the Timor Sea, northwest of Darwin, East Timor has some superb countryside, beautiful beaches and some of the best diving in the world.
East Timor Coastline
Dili Rock is 10 minutes west of the capital, Dili, and is one of East Timor's most dived sites. Here you can see several varieties of fish, including Leaf Scorpions, Anglers and Ghost Pipes. Further offshore is Atauro Island, offering pristine snorkelling and diving for all skill levels, with an abundance of coral and marine life.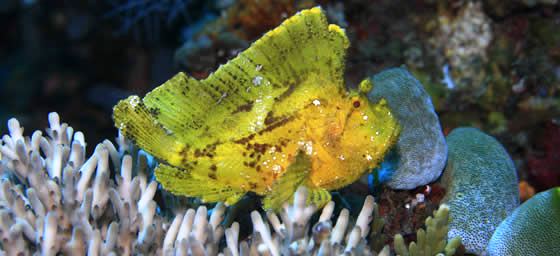 Leaf Scorpion Fish
Brush up on your Tetum, Portuguese or Indonesian before visiting as these are widely spoken. The island has a tropical climate so before you grab a flight to East Timor, remember the wet season is November to May. To make the most of the sunny days in the dry season, you might appreciate the locally-grown coffee – it tastes fabulous!
East Timor Airport (DIL)
Flights from Singapore to East Timor will disembark at Presidente Nicolau Lobato International Airport.
Presidente Nicolau Lobato International Airport (DIL), formerly known as Comoro International Airport, is located in East Timor's capital of Dili. The airport was renamed after Nicolau dos Reis Lobato, an East Timorese politician and national hero.
Airlines that fly to East Timor
Qantas Airlines offers cheap flights to East Timor from Singapore.
For more information on East Timor holidays check out our East Timor travel guide.