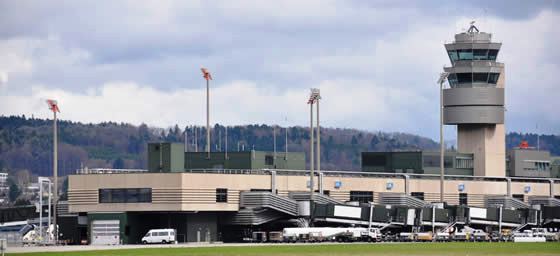 Zurich Airport
Check-in
There are three check-in areas within the terminal. Check-in 1 is located on G1, check-in 2 on G2 and check-in 3 on G01. Check the airport screens to determine your check-in location.
Money Exchange
There are a range of money exchange facilities located throughout the airport. 
Business Services
Business services are available in the lounges, for eligible passengers.
Internet Access
Wi-fi access and internet kiosks are available throughout the terminal, connection fees apply.
Family Facilities
Zurich Airport offers children and their parents spacious and well-equipped nursery and playroom facilities (Family Services) in the vicinity of the gate areas. Facilities for passengers with babies include change tables, baby care products and rooms for breastfeeding. There is also a kitchenette with a hotplate, microwave oven and cutlery for warming up infant meals. Family Services are located in Transit A, between the transfer desk and special assistance desk, next to the entrance to gates 60–69 and at Dock E, level 3, above gate E45.
Baggage
You will find an attended left luggage office and coin-operated lockers next to the Service Center near car park pay station 2. Porter service is also available throughout the airport, should it be required.
Showers
Showers are available in the Service Center for all passengers and visitors to the airport. The Service Center is located in car park 2 on level 1. You will also find showers located in Transfer Area D. Showers in both locations are provided on a pay-per-use basis. The price includes towel hire and shower gel/shampoo. Showers are also available in some of the airport lounges, for eligible passengers.
Airport Lounges
Zurich Airport is home to a wide range of lounges some of which are operated independently. To arrange lounge access, talk to your Flight Centre consultant.
Airline Lounges
The following airlines have lounges located within the airport. For access to specific lounges, refer to your airline.
Emirates - The Emirates Lounge is located near Gate E. The lounge offers a selection of food and beverages including full bar service and large buffet, a selection of reading material, TVs and relaxation areas, showers and business facilities, including wireless and wired internte access. The lounge is available to Emirates first and business class passengers and Skywards Gold members.
SWISS International Airlines - SWISS offers six lounges at the Zurich airport. The SWISS First, SWISS Senator and SWISS Business lounges are open daily from 5:45am to 10:30pm, the SWISS Lounge D Senator and SWISS Lounge D Business lounges are open daily from 6:00am to 8:30pm and the SWISS Arrival lounge is open daily from 6:00am to 1:00pm. Facilities and services vary across the lounges but all include relaxation areas, food and beverages and complimentary wireless and wired internet access. The First, Business, Senator and Arrival lounges also include shower facilities. Access to the lounges is for eligible first and business class passengers travelling on SWISS and those with appropriate airline membership status. Refer to the airline for more information.
Terminal Transfers
A light rail shuttle service runs between the main building and Gate E. All other gates can be accessed by walkways. If you are staying for an extended period at the airport, in Transfer Area D you will find dayrooms offering space for overnight stays, a rest area with comfortable reclining chairs, showers, a waiting area and snacks and drinks. Prices vary depending on the length of stay and type of room required.
Public Transport
There are several public transport options connecting the airport with Zurich city. Transport options include the Swiss Federal Railways train services, frequent regional bus services and the Glattalbahn tram service. During winter, a coach service is available that runs from the airport directly to the ski slopes.
The following airlines reach Zurich Airport. Don't see the airline you are looking for? Talk to a consultant to book your Zurich flights with your preferred airline.