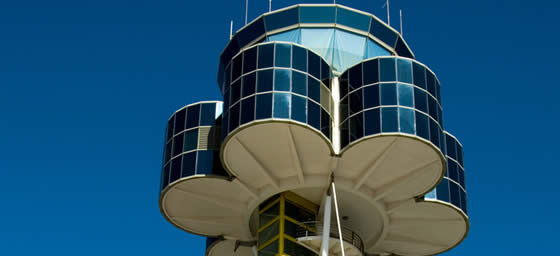 Sydney Airport Control Tower
Check-in
Check-in zones are located just after the entrance of the departure hall in all terminals.
Business Services
Business facilities including work stations, Wi-fi, fax machines and fully equipped meeting rooms are located within the Departures Lounge of Terminal 1.
Internet Access
Free Wi-fi is available throughout Terminals 1 and 2. Internet kiosks are also on offer at various locations throughout Terminals 1 and 2.
Family Facilities
Baby changing rooms are located throughout all three terminals.
Baggage
A left baggage facility operated by SmarteCarte is available in the arrivals area of Terminal 1 and near carousel 6 in the arrivals area of Terminal 2. For lost property, head to level 3 in Terminal 1 or Gate 54 in Terminal 2.
Concierge
A Travel Concierge service is available at the arrivals area of Terminal 1 and near carousel 3 in Terminal 2. Services include accommodation bookings, transport arrangements, event tickets, restaurant bookings and travel information.
Showers
Sydney Airport has showers located throughout all three terminals.
Airline Lounges
The following airlines have lounges located within the airport. For access to specific lounges, refer to your airline.
Qantas - Qantas has a Club Lounge located opposite gates 4 and 5 in Terminal 2 and a First Lounge after customers in Terminal 1. Qantas First and Business class passengers as well as various Qantas Club, Platinum, Gold and eligible oneworld members are welcome to enjoy the Club Lounge which includes showers, Wi-fi, Apple computers, lounge dining, bar service and barista brewed coffee. First Class passengers are privy to the First Lounge which is designed by Marc Newson and spans a day spa, library, restaurant, private work suites and concierge service.
Virgin Australia - Virgin Australia welcomes its lounge members as well as Velocity Platinum and Gold Members to enjoy it's domestic lounge located near the main security checkpoint in Terminal 2. Open from 5:30am to 10pm, the lounge is fully equipped with showers, entertainment, free Wi-fi, business facilities including private meeting rooms, as well as complimentary food and beverages.
Singapore Airlines - Singapore Airlines have a SilverKris Lounge located near Gate 59 in Terinal 1. The lounge is available to Star Alliance (First and Business Class) and SilkAir PPS Members flying with Singapore Airlines. Guests can enjoy a range of warm food and light snacks, as well as comfortable seating, showers, Wi-fi and workstations.
,
,
,
Terminal Transfers
Sydney Airport has two domestic terminals and one international terminal. While the domestic terminals are connected and within walking distance from each other, transfers between domestic and the international terminal can be done so via the T-Bus shuttle or Airport Link Train. A inter-terminal transfer service is also offered by Qantas and Virgin Australia.
Public Transport
Trains and buses service the airport regularly. The Airport Link train travels from the city and stops at the International and Domestic Terminals. The train runs every 10 minutes and takes approximatly 13 minutes in travel time. The number 400 bus also services the airport, stopping at the International Terminal and the T3 Domestic Terminal.
As an international travel hub for Australia, Sydney is serviced by a wide range of airlines. The following airlines reach Sydney Airport. Don't see the airline you are looking for? Talk to a consultant to book your Sydney flights with your preferred airline.
,
,
,
There are a number of hotels located within close proximity to Sydney Airport.