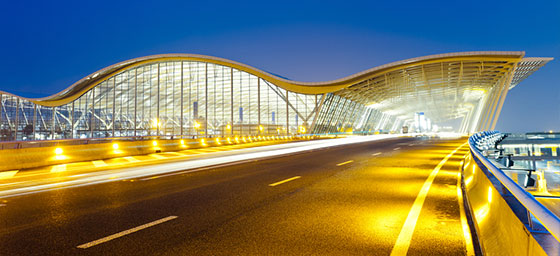 Shanghai Airport
Check-in
Check-in zones are located on level 1 at the departures hall of the airport terminals.
Money Exchange
Money exchange facilities are located in the international arrivals section, before the arrivals hall exit. 
Business Services
Business services and facilities can be found within the airport's various business lounges (access conditions apply).
Internet Access
Free Wi-fi is available throughout the airport.
Baggage
A left baggage service is available near Entrance 14-15 at the International Departure Hall and at the International Arrival Hall. A lost and found office is located in the arrivals area near gate 7.
Airport Lounges
The following airlines have lounges located within the airport. For access to specific lounges, refer to your airline.
Air China - Air China welcomes its First Class, Business Class, PhoenixMiles and Star Alliance Gold passengers to enjoy its VIP lounge located at Lounge V3 on Level T2-T3. Facilities within the lounge include a rest zone, dining area, business zone as well as a VIP room.
Emirates - The Emirates Lounge at Shanghai Pudong International Airport is a luxurious space for the exclusive use of Emirates First and Business Class passengers and Skywards Gold card holders. Upon arrival at the lounge you will be treated to fresh gourmet cuisine featuring seasonal ingredients. Sit back and relax with a TV program or freshen up with a shower. The lounge is also fully equipped with a business centre complete with work stations and complimentary broadband and Wi-fi.
Terminal Transfers
Shanghai Pudong International Airport has a Domestic Terminal and International Terminal with three long corridors linking them. For a shorter journey, buses run between the terminals every 10 minutes with a journey time of approximately 5 minutes. Shuttle buses operate between 6am and 9pm.
Public Transport
Metro trains and a range of buses service the airport regularly. The Maglev Train offers the quickest journey, travelling between the airport and Longyang Road Metro Station in 25 minutes.
As a major travel hub for China, Shanghai is serviced by a wide range of airlines. The following airlines reach Shanghai Pudong International Airport. Don't see the airline you are looking for? Talk to a consultant to book your Shanghai flights with your preferred airline.
There are a number of hotels located within close proximity to Shanghai Pudong International Airport.