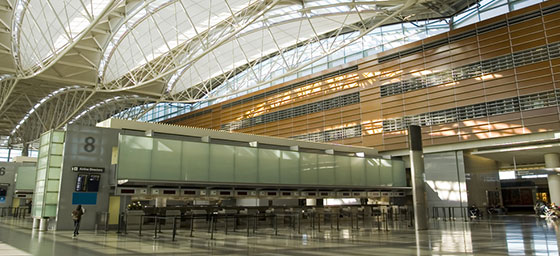 San Francisco Airport
Check-in
Check-in desks are located on the Departures Level of the Main Hall in the International Terminal, and near the entrances of the other terminal buildings.
Money Exchange
There are Travelex currency exchange desks located throughout the International Terminal and near Gate 71 of Terminal 3. 
Business Services
The TripTel Business Centre in the International Terminal Arrivals Lobby offers internet work stations, fax and copy services and cell phone rental. There are also several hotels in close proximity to San Francisco Airport that offer full conference facilities.
Internet Access
Free WiFi is provided throughout San Francisco Airport. To access your free WiFi, simply connect to the network named "sfo free wifi" on your device and follow the prompts.
Baggage
For any luggage items lost in the terminals or on the AirTrain, visit the Lost and Found office in Terminal 1 near Baggage Carousel 17, or call (650) 821-7014. Luggage carts are available from fee-based dispensers throughout the terminals and car parks. These are free for inbound international passengers. Baggage wrapping services are available at the Airport Travel Agency and the LMD Baggage Wrapping Kiosk, both located in the International Terminal Main Hall. The Airport Travel Agency also offers luggage storage.
Family Facilities
Baby changing facilities are available throughout the airport, both before and after security screening.
Showers
Showers are available at Freshen Up in the Main Hall of the International Terminal. Toiletries and ironing facilities are also offered here.
Airline Lounges
American Airlines Admirals Club
Delta Sky Club - The Delta Sky Club offers eligible travellers a range of benefits including a fully stocked bar, complimentary snacks, free WiFi, satellite TV, business cubicles, reading material and personalised flight assistance. There are two Sky Clubs within San Francisco Airport - one in the International Terminal beyond Security Checkpoint A, and one on the Mezzanine Level of Terminal 1. The lounges are open to Delta Sky Club members, SkyTeam Business Class and First Class passengers, eligible SkyTeam frequent flyer members, and buyers of one-day or 30-day passes.
,
,
,
,
AirTrain is San Francisco Airport's fully automated people mover, providing a convenient and frequent transfer service between areas throughout the airport. The AirTrain is free to use and stops at all terminals, terminal car parks, the BART station and the Rental Car Centre.
San Francisco Airport is serviced by several international airlines. Please refer to the below list for more information on the airlines that fly to San Francisco.
,
,
,
,
There are a number of hotels located within close proximity to San Francisco Airport. To book your accommodation, search below or view more accommodation options.