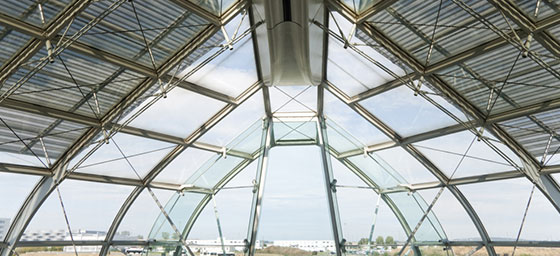 Paris Airport
Check-in
Check-in zones are located in the main hall of Terminal 1 and throughout Terminal 2.
Money Exchange
Travelex has 23 money exchange outlets located throughout Terminals 1 and 2. 
Business Services
Charles de Gaulle Airport has business work stations located in Terminal 1, 2D, 2E, 2F and 2G.
Internet Access
Wi-fi is available throughout the airport for free for the first 15 minutes. A fee applies thereafter. Cyber cafes with internet kiosks can also be found in Terminals 1, 2E, 2G and 3.
Family Facilities
Baby changing rooms are located at all toilet facilities both before and after security. The airport also has a range of children's play areas run by Disney and Gulli. The Disney area is located in the boarding lounge of Terminal 2E while Gulli has play areas in Terminals 1, 2A, 2C, 2E and 3.
Baggage
A left baggage facility is available on the train level of Terminal 2.
Concierge
Charle de Gaulle offer a range of personalised services including a personalised welcome, personalised travel arrangements and VIP boarder and security lines.
Showers
Showers are available within the airport's various lounges
Airline Lounges
Air France - Air France has a total of six lounges at Paris-Charles de Gaulle Airport; a La Premier Lounge in Terminal 2E, an arrivals lounge in 2C and standard lounges in Terminals 2D, 2E, 2F and 2G. The La Premier Lounge boasts an array of premium facilities and services including a dining area, relaxation treatments, individual work spaces, a library and comfortable seating. The other lounges include spa treatments, showers, buffet dining, Wi-fi and internet kiosks.
Air Canada - Located in Terminal 2A, Air Canada's Maple Leaf Lounge is available to various Air Canada card holders as well as passengers who have purchased lounge access. Facilities available include a fully equipped Business Centre, Wi-fi, work stations, quiet zones and complimentary food and beverages.
,
,
,
,
,
,
,
,
Paris-Charles de Gaulle Airport is made up of three terminals, although Terminal 2 is split into seven sections. Transfers can be done via walkways, rail shuttles or buses
From To Transfer Terminal 1 Terminal 2A, 2B, 2C, 2E and 2F Shuttle bus Terminal 2D and 2G 8 minute rain shuttle Terminal 3 Rail shuttle Terminal 2A, 2B, 2C, 2E and 2F Terminal 1 Shuttle Bus Terminal 2D and 2G Shuttle Bus Terminal 3 Shuttle train (except for 2F which is via shuttle bus) Terminal 2D and 2G Terminal 1 Shuttle bus and shuttle train Terminal 2A, 2B, 2C, 2E and 2F Shuttle bus Terminal 3 Shuttle bus and shuttle train Terminal 3 Terminal 1 4 minute shuttle bus 2A, 2B, 2C, 2E, 2D and 2F 4 minute shuttle train Terminal 2G Shuttle bus and shuttle train
As a travel hub for France, Paris is serviced by a wide range of airlines. The following airlines reach Paris-Charles de Gaulle Airport. Don't see the airline you are looking for? Talk to a consultant to book your Paris flights with your preferred airline.
,
,
,
,
,
,
,
,
There are a number of hotels located within close proximity to Paris-Charles de Gaulle Airport.