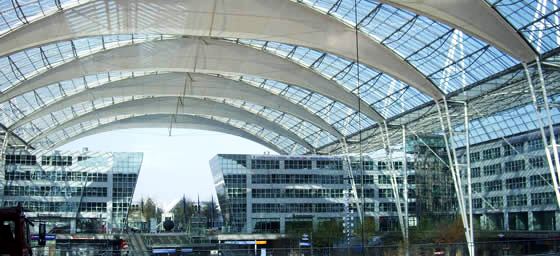 Munich Airport
Check-in
Check-in zones are located just after the bus stop area inside the main terminal.
Money Exchange
There are a range of money exchange facilities located throughout the airport. 
Business Services
Business services and facilities can be found within the airport's Municorn Congerence Centre located on levels 7 and 8.
Internet Access
Free Wi-fi is available at both terminals.
Family Facilities
Baby changing rooms are located in the disabled toilets in Terminals 1 and 2.
Baggage
A left baggage facility is available in the Service Centres of Terminals 1 and 2.
Concierge
Munich Airport offers a meet and assist service where staff can help with the check-in and gate procedures.
Showers
Showers are available for a fee on level 3 in the arrivals area of Terminal 2. Men's showers can also be found in the Central Area next to the Service Centre, while women's are available next to the parking office.
Airline Lounges
Lufthansa - Lufthansa has Senator and Business Lounges located within Terminal 2. Both loungers offer a variety of facilities including showers, Wi-fi, business facilities, TV screens and reading material, and are open from 5am to 10pm daily.
Air France - Open daily from 6am to 9pm, the Air France Lounge can be found in Module D of Terminal 1. Facilities on offer include computers, TV screens and reading material.
British Airways - British Airways First Class, Business Class and Club World passengers are free to enjoy the Galleries Club Lounge in Terminal 1. Take a seat to watch the TV or read the daily newspaper and enjoy a range of complimentary food and beverages including snacks, wine, beer and spirits. Free Wi-fi is also available.
,
,
Munich Airport has one terminal with a domestic and international wing. All facilities are easily accessed by foot.
As a travel hub for Germany, Munich is serviced by a wide range of airlines. The following airlines reach Munich Airport. Don't see the airline you are looking for? Talk to a consultant to book your Munich flights with your preferred airline.
,
,
There are a number of hotels located within close proximity to Munich Airport.