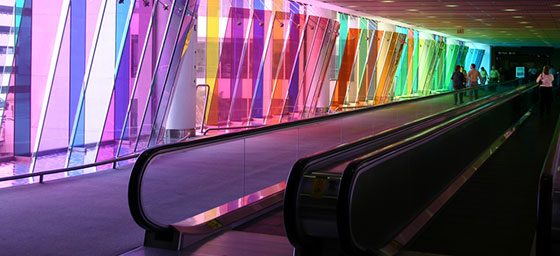 Miami Airport
Check-in
Check-in counters are located near the entrances of all three terminals.
Money Exchange
There are currency exchange booths located throughout the airport, both in the arrivals and departures areas. There are also ATMs conveniently located throughout all terminals.
Business Services
Business travellers can make use of Miami Airport's multimedia-ready auditoriums, conference rooms, post office, VIP lounges, internet kiosks, WiFi access and public phones.
Internet Access
WiFi access within the airport is free for those wishing to access websites for airlines, hotels, rental car companies, the Greater Miami Convention and Visitors Bureau, the Miami Airport and Miami-Dade County. For all other internet use, WiFi access must be purchased for $7.95 per day. There are also computers with internet access inside the ICE Business Centre in the South Terminal between concourses H and J, as well as public internet workstations on the seventh floor of the Central Terminal.
Family Facilities
Baby changing facilities are available throughout the airport, both before and after security screening.
Airline Lounges
American Airlines Admirals Club - There are two Admirals Clubs located within Concourse D of the North Terminal. The Admirals Club is open to international Business and First Class passengers of American Airlines and other Oneworld airlines, as well as eligible frequent flyer members and lounge members of these airlines. The lounges offer complimentary beverages and snacks, conference rooms, computers with internet access, complimentary WiFi, showers, music rooms, children's rooms and meals for purchase.
United Club - The United Club is situated on level 4 of the South Terminal, in Concourse H. It offers a full complimentary bar, newspapers, magazines, fax and copy machines, a paper shredder, computers, free WiFi, televisions, telephones and flight monitors. The lounge open to United Club Members, United Business and First Class passengers and eligible Star Alliance Gold members.
Oneworld Premium Lounge - The Oneworld Premium Lounge in Concourse E of the Central Terminal is open to Oneworld international First and Business Class passengers, and eligible frequent flyer members. The Premium Lounge offers complimentary beverages, light meals and snacks, showers, children's room, TV lounges, free WiFi and work stations with computers.
,
,
,
All three terminals are connected via the Skyride Connector, a moving walkway located on the 3rd level of each terminal. Travelling from the North Terminal to the South Terminal takes around 15 minutes on the Skyride Connector. There's also the Skytrain for those needing to travel from one end of the mile-long North Terminal to the other.
Miami Airport is serviced by many different international airlines. Please refer to the below list for more information on the airlines that fly to Miami.
,
,
,
There are a number of hotels located within close proximity to Miami Airport.