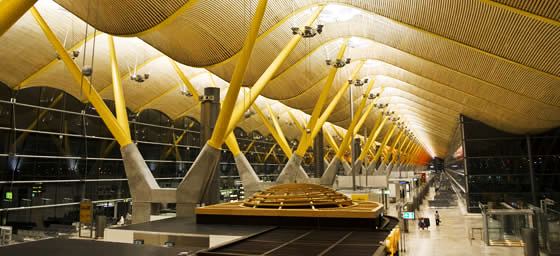 Madrid Airport
Check-in
Check-in zones are located in the departures halls of all four terminals.
Money Exchange
Money exchange facilities can be found throughout Terminals 1 and 4. 
Business Services
Madrid Airport has a business centre in Terminal 4 while a range of conference facilities can be found throughout Terminal 2.
Internet Access
Madrid-Barajas Airport has 99 internet access points available throughout the all of the terminals. For specific access points, refer to the airport's map.
Family Facilities
Baby changing rooms are available throughout the terminals.
Baggage
Left baggage facilities are available in Terminals 1 and 4.
Airport Lounges
Madrid Airport is home four lounges, all of which are independantly operated. For more information and to access the lounges, talk to your Flight Centre consultant.
,
,
,
,
,
,
,
Terminal Transfers
Madrid-Barajas Airport has four terminals with a free shuttle bus service connecting all four. The shuttle bus runs two routes transferring both Schengen and non-Schengen area passengers.
Public Transport
A range of buses and trains service the airport regularly. The quickest journey to Madrid central is via the metro train line 8 which takes approximatly 12 to 15 minutes to reach Nuevos Ministerios Station.
As a travel hub for Spain, Madrid is serviced by a wide range of airlines. The following airlines reach Madrid-Barajas Airport. Don't see the airline you are looking for? Talk to a consultant to book your Madrid flights with your preferred airline.
,
,
,
,
,
,
,
There are a number of hotels located within close proximity to Madrid-Barajas Airport.