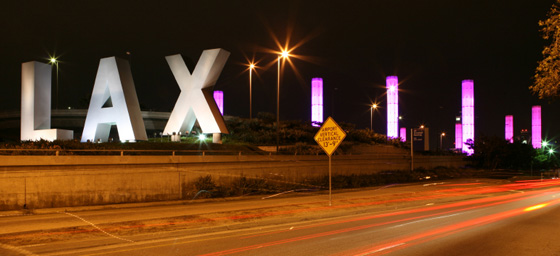 Los Angeles airport : The famous LAX sign at night
Check-in
Check-in counters are located near the entrances of each of the eight terminal buildings.
Money Exchange
ICE Currency Exchange booths are located on the departure level of all terminals, and on the arrivals level of terminals 2, 5, 6 and the Tom Bradley International Terminal. There are also ATMs conveniently located throughout all terminals. 
Business Services
Business travellers can make use of the airport's VIP lounges, notary services, internet kiosks, WiFi access and public phones. There is also a post office on Airport Boulevard five minutes from the airport, and several hotels with full conference facilities within the airport precinct.
Internet Access
There is fee-based WiFi access available throughout all public areas of the airport, which can be purchased for US$6.00 per hour or US$9.99 per day.
Family Facilities
Baby changing facilities are available throughout the airport, both before and after security screening.
Airport Lounges
Los Angeles Airport is home to numerous airline and VIP lounges. Within the Tom Bradley International Terminal are dedicated lounges for each of the three major alliances - SkyTeam, oneworld and Star Alliance. In the same terminal is the reLAX Lounge, a public access pay-to-use lounge.
Airline Lounges
Airlines with lounges in other terminals include US Airways, Air Canada, Air France, United Airlines, Alaska Airlines, American Airlines, Air New Zealand, Hawaiian Airlines and Delta Air Lines.
Located within Terminal 4 opposite Gate 40 is the American Airlines Admirals Club. The Admirals Club is open to international Business and First Class passengers of American Airlines, Qantas and British Airways as well as eligible frequent flyer members and lounge members of these airlines. The lounge offers complimentary beverages and snacks, conference rooms, computers with internet access, complimentary WiFi, showers, music rooms, children's rooms and meals for purchase.
United Club lounges are located in Terminal 6, across from Gate 62, and Terminal 7, across from gate 71A. The lounges offer telephones, computers, WiFi access, free snacks and beverages, reading material and televisions. The lounges are open to United Club Members, United Business and First Class passengers and eligible Star Alliance Gold members.
The Delta Sky Club offers eligible travellers a range of benefits including a fully stocked bar, complimentary snacks, free WiFi, satellite TV, business cubicles, reading material and personalised flight assistance. The lounge is located in Terminal 5 in between Gates 53 and 55, and is open to Delta Sky Club members, SkyTeam Business Class and First Class passengers, eligible SkyTeam frequent flyer members, and buyers of one-day or 30-day passes.
,
,
,
,
,
,
,
,
Terminal Transfers
A free shuttle service runs between all eight terminals, Parking Lot C and the Metro Rail Green Line station. Look out for the blue 'LAX Shuttle & Airline Connections' signs outside the lower levels of each terminal.
Public Transport
A free shuttle bus takes passengers to the Aviation Station of the Metro Green Line for rail connections. There is also a shuttle to the Metro Bus Centre, for onward bus transportation to areas throughout Los Angeles.
Los Angeles Airport is serviced by many different international airlines. Please refer to the below list for more information on the airlines that fly to LAX.
,
,
,
,
,
,
,
,
There are a number of hotels located within close proximity to LAX Airport.