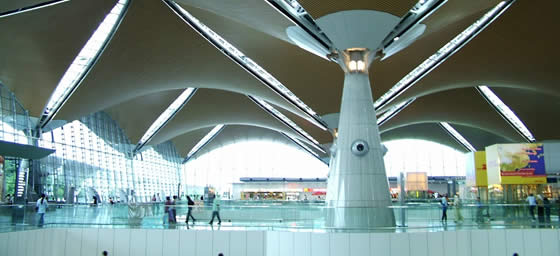 Kuala Lumpur Airport
Check-in
Check-in zones are located on level 5 of the main terminal building.
Money Exchange
There are eight money exchange outlets located throughout the Main Terminal Building.
Business Services
Kuala Lumpur has a Business Centre located onsite at the Plaza Premium Lounge in the Satellite Building. The centre has various computer and conference facilities available and also offer secretarial services, limousine services and courier services. Entry to the centre is based on a small fee.
Internet Access
Free Wi-fi is available at the Arrival and Departures Hall as well as the Satellite Building and Contact Pier. Free internet kiosks are also located throughout the airport.
Family Facilities
Nurseries featuring change tables, baby beds, chairs and washbasins are located throughout the airport's terminal buildings. There is also a children's play area located on Level 5 of the Main Terminal Building.
Baggage
A 24 hour left baggage service operated by Talasco Dagang Sgn Bhd is available on level 5 of the main terminal building.
Showers
Showers can be found within the airports various lounges (access conditions apply).
Airline Lounges
The following airlines have lounges located within the airport. For access to specific lounges, refer to your airline.
Malaysia Airlines - Malaysia Airlines welcomes its First Class and Business Class passengers to enjoy the MAS Golden Lounge, located between Gates C1 and C6 on the Mezzanine level of KL Airport. It is here guests can enjoy sumptuous hot meals, catch up on some shut-eye in the private sleeping space or stay connected at the fully equipped business centre.
Thai Airways - Open from 6am to 9:30pm the Royal Orchid Lounge is a welcome retreat for First and Business Class passengers travelling with Thai Airways. Located between Gates C11 and C17 on the Mezzanine Level, the lounge offers guests a range of complimentary snacks and refreshments, as well as the opportunity to watch TV or catch up on work at the PC terminals.
Singapore Airlines - The Singapore Airlines SilverKris Lounge is available to the airlines First and Business Class passengers and located on the Mezzanine Level between Gate C11 and C17. The spacious lounge is ideal for relaxing in comfort over a drink, attending to urgent business at the business centre, freshening up in the showers or satisfying your appetite with a range of hot meals, snacks and beverages available.
Terminal Transfers
Kuala Lumpur International Airport is made up of three buildings; a Main Terminal Building, the Contact Pier and the Satellite Building. An automated people mover called the Aerotrain connects all three buildings, running between terminals every five minutes taking just under two minutes in travel time.
Public Transport
A range of buses and trains service the airport. The quickest journey from the airport to the city is the KLIA Ekspress non-strop train which takes approximately 28 minutes. The train operates from 5am to midnight, running every 15 minutes during peak hours and every 20 minutes there after.
As a major travel hub for Asia, Kuala Lumpur is serviced by a wide range of airlines. The following airlines reach Kuala Lumpur International Airport. Don't see the airline you are looking for? Talk to a consultant to book your Kuala Lumpur flights with your preferred airline.
There are a number of hotels located within close proximity to Kuala Lumpur International Airport.