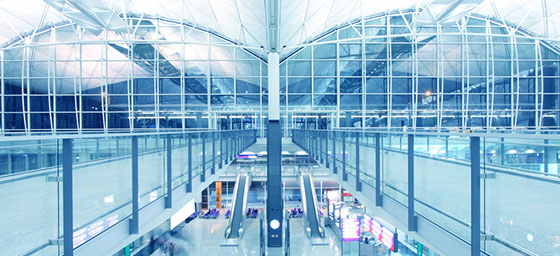 Hong Kong Airport
Check-in
Check-in zones are located at the entrance of the departures hall at Terminals 1 and 2.
Money Exchange
There are a range of money exchange facilities and ATMs located throughout both terminals, including four Travelex outlets. 
Business Services
Computer terminals with free internet access can be found throughout the Departures Level airside at Terminal 1. Meeting rooms and conference facilities are available at the Airport World Trade Centre next to Terminal 2.
Internet Access
Free Wi-fi is available throughout the airport.
Family Facilities
Hong Kong Airport has children's play areas located between Gate 23 and 23 on the Departures Level of Terminal 1 and between Gate 509 and 510 on the Departures Level of the North Satellite Concourse. Kids can also watch age appropriate entertainment at one of the Children's airport lounges located near Gates 1, 15, 40 and 60 on the Departures Level of Terminal 1.
Baggage
A short term left baggage service is located on Level 3 of Terminal 2. The service is available from 5:30am to 1:30pm, Monday to Sunday.
Concierge
A concierge service is on offer at the Airport World Trade Centre. Services available include meet and greet, luggage handling, hotel reservations, valet parking and transport reservations.
Showers
Showers are available to the public in The Plaza Shower and Relaxation Lounge on level 7 of the Departures Hall in Terminal 1. Access to showers is based on a fee.
Hong Kong International Airport is home to a total of 19 lounges, some of which are operated independently. To book access to Hong Kong's independent airport lounges, talk to your Flight Centre consultant.
The following airlines have lounges located within the airport. For access to specific lounges, refer to your airline.
Hong Kong Airlines
The Hong Kong Airlines VIP lounge operates from 5am to midnight and is located close by to Gate 23. Business Class passengers as well as Fortune Wings Club Gold and Silver members travelling with the airline are welcome to enjoy the lounge and its facilities. Take a seat in the lounge to play games, watch movies or cruise the internet. A buffet is also on offer serving an array of options including noodles, dim sum, fried rice, fresh fruit and snacks.
Hong Kong International Airport has two terminals which are linked by a central walkway. The terminals are within two-minutes walking distance of each other.
As a major travel hub for Asia, Hong Kong is serviced by a wide range of airlines. The following airlines reach Hong Kong International Airport. Don't see the airline you are looking for? Talk to a consultant to book your Hong Kong flights with your preferred airline.
There are a number of hotels located within close proximity to Hong Kong International Airport.