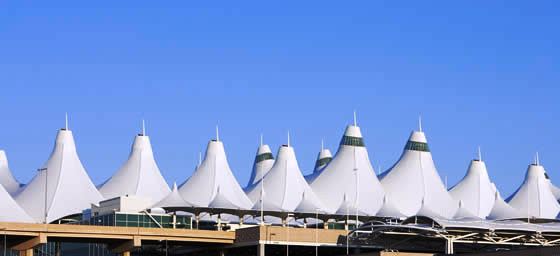 Denver Airport
Check-in
Check-in counters are located near the entrance of the main terminal building.
Money Exchange
There are currency exchange desks located in Concourses A and B. There are also ATMs throughout the airport.
Business Services
The Business Centre on the mezzanine level of the Concourse B offers conference rooms and fax and copy services. Business travellers can also make use of the airport's VIP lounges, post office, WiFi access and public phones. There are also office service kiosks in the terminal building, offering printing, word processing, spreadsheets and other business-related applications.
Internet Access
There is free WiFi access throughout the airport.
Family Facilities
Baby changing facilities are available throughout the airport, both before and after security screening.
Airline Lounges
Denver Airport is home to several lounges including the American Airlines Admirals Club, British Airways Executive Club and the Rocky Mountain USO Centre.
American Airlines - The Admirals Club offers PCs, complimentary WiFi, food for purchase, children's rooms and conference rooms. The lounge is located at the northern end of Concourse A. It is open to Admirals Club members, other oneworld® premium members, Premium Class travellers and above, American Express Platinum Card members and Citi Executive AAdvantage card members.
British Airways - The Executive Club is located at the northern end of Concourse A, on the fourth level. It offers food and beverages, complimentary massages, power points and WiFi. The lounge is open to Executive Club cardholders and eligible members of other oneworld® alliance partners.
,
,
,
,
Terminal Transfers
A shuttle train service runs between the main terminal building, the three concourses and the ground transportation area.
Public Transport
The SkyRide bus service connects Denver Airport with areas throughout the city. Buses depart every 15 minutes during peak hours. The bus terminal is located on level 5 of the main terminal building.
Denver Airport is serviced by many different international airlines. Please refer to the below list for more information on the airlines that fly to Denver.
,
,
,
,
There are a number of hotels located within close proximity to Denver Airport.