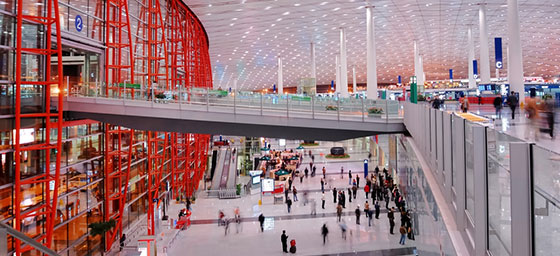 Beijing Airport
Check-in
Check-in zones are located at the entrance of the Departures Hall.
Money Exchange
There are a range of money exchange facilities including a Bank of China outlet at the arrivals gate and a Travelex outlet in the arrivals hall of the domestic terminal. 
Business Services
A fax machine, cell phone recharger, internet access and personal workstations are available at the Business Centre in the airport.
Internet Access
Wi-fi is available at Beijing Capital International Airport from a range of providers. Access and prices vary between companies.
Family Facilities
Beijing Airport has 'The Kid Activity Zone' where younger passengers can play with toys. The zone has various locations found throughout Terminals 1, 2 and 3. Baby changing facilities are located near most restrooms throughout the terminals.
Baggage
Beijing Capital International Airport has left baggage counters located on the east of the Corridor between Terminals 1 and 2, near gate 9 in the arrivals hall and gate 10 in the Departure Hall of Terminal 2 and on the 2nd floor of the Arrival Hall in Terminal 3.
Concierge
A luggage porter service and conference pick-up service are offered at Beijing Airport.
Airport Lounges
Beijing Capital International Airport is home to a range of lounges, some of which are operated independently. To book access to Beijing independent airport lounges, talk to your Flight Centre consultant.
Airline Lounges
The following airlines have lounges located within the airport. For access to specific lounges, refer to your airline.
Air China - The International Terminal E3 is home to two Air China lounges, one dedicated to the airline's First Class passengers and one for its business class passengers. Within the lounges, passengers can access the internet, freshen up with a shower and enjoy complimentary food and beverages.
,
,
,
,
,
Terminal Transfers
Beijing Capital International Airport is made up of three terminals. Travelling between terminals in made easy via a 24-hour inter-terminal shuttle bus, which transfers passengers airside between Terminals 1, 2 and 3. Shuttles run every 10 minutes from 6am to 11pm, and in 30 minute intervals there after.
Public Transport
The airport is serviced by the Airport Express Line of the Beijing Subway. The journey from Terminals 2 and 3 to the city takes approximately 20 minutes.
As a major travel hub for China, Beijing is serviced by a wide range of airlines. The following airlines reach Beijing Capital International Airport. Don't see the airline you are looking for? Talk to a consultant to book your Beijing flights with your preferred airline.
,
,
,
,
,
There are a number of hotels located within close proximity to Beijing Capital International Airport.