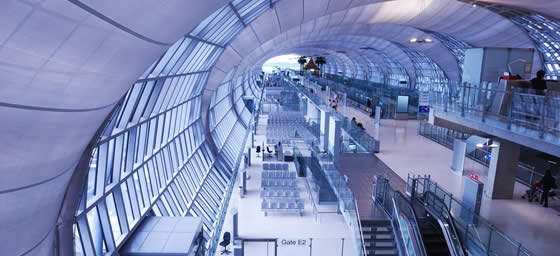 Bangkok Airport
Check-in
Check-in zones are located on level 2 of the terminal.
Money Exchange
A currency exchange counter is located on level 2 of the terminal building. There are also several banks on levels 3 and 4 that provide currency exchange services. 
Internet Access
Free Wi-fi is available in the area behind passport control for the first 15 minutes.
Family Facilities
A children's play area is located near the transfer passenger lounges.
Baggage
A left baggage service is available on the 2nd level of the Arrivals Hall and on the 4th level of the Departures Hall. For lost property, contact the Baggage Tracking Service Counter located between gates 5 and 6 on the 4th level of the Departures Hall.
Showers
Showers are available inside the Louis Tavern Dayrooms. Entrance is based on a fee.
Airport Lounges
Suvarnabhumi Airport is home to a range of lounges, some of which are operated independently. To book access to Bangkok's independent airport lounges, talk to your Flight Centre consultant.
Airline Lounges
The following airlines have lounges located within the airport. For access to specific lounges, refer to your airline.
Bangkok Airways - Bangkok Airways welcomes all passengers to enjoy its Boutique Lounges, located on level 2 opposite Gate A3 and on level 3 at the beginning of Concourse. Relax in comfortable surroundings with complimentary snacks and beverages or catch up on your emails at the computer booths offering free Wi-fi. Kid's are also well catered for with a dedicated play area.
Thai Airways - Thai Airways offers its First Class and Royal Silk passengers a total of 8 airside lounges at Suvarnabhumi Airport. The lounges offer an array of facilities and services including showers, meeting rooms, comfortable seating as well as complimentary drinks and refreshments. First Class passengers are also privy to the airline's Spa Lounge, where passengers can relax in the sauna, steam room, yoga room or work out at the gym. A health room and spa suites makes this lounge an ideal place to relax and revive before, between or after a flight.
Singapore Airlines - Singapore Airlines' premium customers are privy to the newly opened SilverKris Lounge located on the 3rd level of the terminal near gates B. Take a seat in front of the 50 inch Plasma TV screens to catch up on the news, or continue working before or after your flight at the dedicate business area. When the mood strikes, take advantage of the complimentary food and beverages available including dim sums, sandwiches, pastries, fruit, Haagen Dazs Ice Cream, coffee, tea, beer and wines.
As a major travel hub for Asia, Bangkok is serviced by a wide range of airlines. The following airlines reach Suvarnabhumi Airport. Don't see the airline you are looking for? Talk to a consultant to book your Bangkok flights with your preferred airline.
There are a number of hotels located within close proximity to Suvarnabhumi Airport.